Costa Rica is world renown for its vast jungles, exotic wildlife and spectacular beaches. This tour will take you from one of the most natural and pristine national parks in the country, the Monteverde cloud forest, to the beautiful Costa Rican gold coast, with white sand beaches and azure oceans. Customize your trip for romance, with spa pampering and secluded nature hikes; for adventure, with zip-lining in the rain-forest canopy and surfing lessons in the warm Pacific Ocean; or for the whole family with an unforgettable sailboat excursion!
Package Includes:
4 nights at the Tamarindo Vista Villas Best Western
more details
Situated directly across - only steps away - from Tamarindo beach, sits the Best Western Tamarindo Vista Villas. This affordably priced hotel is perfect for those looking to take in some of the area favorite activities and events. Here you will find a pool overlooking the famous surf break and you'll have a chance to enjoy the popular Crazy Monkey Bar that fills up every Friday night for ladies night. Its a fantastic jump point to world-renowned surf breaks such as Witches Rock and Ollies Point for which are both booked daily from the hotel.
Standard room
Oceanview pool with accompanying deck.
Free wireless Internet in all rooms and throughout hotel
Complimentary breakfast
Views over the famous Tamarindo surf break
Onsite bar/restaurant the Crazy Monkey
Centrally located along "the strip"
Located near the entrance to Monteverde Cloud Forest Reserve, Poco a Poco claims to be the most "cosy" hotel in the area. But you'll have to be the judge of that. Some of the onsite amenities include a beautiful swimming pool (covered & heated) and jacuzzi, spa, restaurant with live music and free wireless internet. There's no denying this is one hotel that serves up a level of comfort unparalleled in Monteverde at a price almost everyone can afford.
Bromelia room
Free Internet
Heated pool & jacuzzi
Close vicinity to the Monteverde Cloud Forest Reserve
Trip Advisor Excellence Award Winner
Naroa Spa & Wellness Center
Day 1 – A representative from Costa Rica Vacations will meet you at the Liberia airport to take you to your first destination, the Best Western Tamarindo Vista Villas. The transfer will take approximately 45 minutes while you take in all the beautiful and lush surroundings along the way. Tonight you will enjoy your Corona Suite at Vista Villas overlooking the incredible Tamarindo beach.
Day 2 – After your breakfast you can go have a nice walk or swim and enjoy one of Costa Rica's most famous beach towns, Tamarindo. Go shopping and get to know some of the local culture. In the afternoon go aboard one of the most amazing catamarans and navigate Costa Rica's Gold coast while passing some of Guanacaste's most exotic white sand beaches, this will give you a completely different view of Costa Rica. Enjoy a tropical drink prepared by the crew and maybe with good luck you would have the chance to observe dolphins, sea turtles or even the majestic flying fish that can be found in the region. After that you can take part in activities that are suitable for all ages such as: guided snorkel tours and swimming. This night you will stay again at Tamarindo Vista Villas in your Corona Suite. Complimentary breakfast. Includes: transportation and catamaran excursion, open bar and snacks
Day 3 – How many times do you get the opportunity to really experience the local culture and enjoy the simple beauty of the area? There is something magical about visiting secret beaches, eating in local restaurants, and being shown around as if you were visiting a close friend. This beach tour offers all of these wonderful opportunities. Rounding out the evening you will return to your Corona Suite at Tamarindo Vista Villas on the strip! Complimentary breakfast. Includes: transportation, tour guide and bottle of water.
Day 4 – Today we give you the option of choosing between three different activities. All of them are half day so you will have the rest of the day off to enjoy other optional activities the area has to offer. Choose between: a.Surfing lessons - this tour run by local former pro surfer and Costa Rican surf champ Andrea Diaz and her family. Excelling on personal attention and ability to transmit their passion for teaching how to surf. Anyone can surf, as long as you know how to swim. b.ATV Tour - another one of our most popular tours. Set out to explore the beach, forest and mountains on this 2 1/2hour ATV tour. This tour provides an exhilarating and adventurous way to explore the natural beauty that Costa Rica is known for. c.Horseback Ride on the through the beach and mountains, ending with snorkeling at the beautiful white sand beach of Conchal. After your exciting day of adventure you'll return to your familiar Corona Suite at Vista Villas.
Day 5 – After your check out from Vista Villas you'll enjoy an exciting and scenic drive to Costa Rica's most beautiful cloud forest and have a wonderful picnic beneath the Cortez waterfalls on the way. Tonight you will be staying in a Standard Room at the beautiful Poco a Poco hotel in Monteverde. Included: transportation, tour guide, entrance fee to the waterfall, breakfast and lunch.
Day 6 – Coffee Tour in the morning after breakfast. This is an entertaining activity that will give you the chance of learning the process and learn about the coffee beans. Its about two hours long and it includes a guided tour, typical snacks, food samples and a typical home made lunch. In the evening you'll go on a night walk. The tour starts at 5:30 pm. You will get to explore the wonders of the cloud forest that come out after night fall. Includes: transportation, flash light and entrance fee. Tonight you will be staying at Poco a Poco hotel in Monteverde in your standard room. Breakfast and lunch included.
Day 7 – Explore the beautiful cloud forest by wandering through a web of hanging bridges. These 1.9 mile tree top walkways rail across the Monteverde Cloud Forest. This is a tour suitable for people of all ages and is a great way of enjoying nature from a different perspective. In the evening you will spend the night at the amazingly comfy Poco a Poco in your standard room.Included: transportation, naturalist tour guide and entrance fee. Breakfast included.
Day 8 – After breakfast you will transfer to Liberia International airport for your departure. Enjoy a safe and relaxed flight home and we hope to see you again!
Nearby Attractions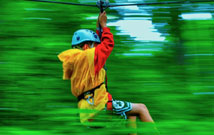 The exhilarating experience of flying atop the jungle canopy is unlike anything you've experienced before. Zip-lining is one of the most popular tourist activities and thousands enjoy this once in a lifetime experience each year. All you need is your willingness to try new and exciting things - be without fear of heights - and you'll have the time of your life. Highly recommended.
Imagine the thrill of ripping through the jungle - hair wipping in the wind as you bend the corner full speed only to emerge on one of the most beautiful beaches you've ever laid your eyes on? Now imagine showing off all the mud from riding in a remote waterfall in the lush rain forests of Costa Rica. Are you up for it?
Easily one of the world's most talked about cloud forests, Monteverde Cloud Forest Reserve is another one of the most popular tourist destinations in the country. The area boasts an incredible array of flora and fauna not found anywhere else on the planet. For visitors coming to the park it is advisable to pack appropriate clothing and footwear given temperatures here are typically lower than low-lying areas of the country.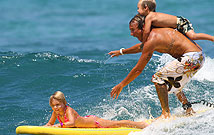 Ever dreamed of surfing effortlessly across the waves in some far off tropical destination? The time has come - Costa Rica surfing is famous the world over and here's your chance to return home telling stories about how you "ripped it up" in CR. Learning to surf in Costa Rica is easy. Ask your travel adviser today how you can learn this incredible sport.
MAPS & AREA
Enchanted Cloud Forest to the Beach Package – where you will go, stay & play!