Costa Rica Beach Resorts
Costa Rica is famous for its beaches. Imagine visiting the entire Central Pacific while enjoying a variety of pristine beaches and untouched rain forests. Costa Rica Beach Resorts is one of our more popular packages at CRV and includes stops at the local favorite Jaco beach and its incredible nightlife. Only a short 1.5 hours from San Jose, Jaco Beach has plenty offer just about anyone.
Then you're off to the most popular national park in the country, Manuel Antonio. Here you will experience the raw beauty Costa Rica is famous for. Monkeys, parrots, iguanas, toucans and many other of Mother Nature's creatures can be found here amongst the white sands of Manuel Antonio beach as the turquoise waters of the Pacific lap the shore soothing you to relaxation like never before. Peace and tranquility are abound – enjoy the pura vida life! Enjoy Costa Rica Beach Resorts Package.
Costa Rica Beach Resorts Package Includes:
Situated in the heart of San Jose, Hotel Grano de Oro is a true oasis. It was once a tropical Victorian mansion that boasts 40-rooms while maintaining the warmth and comfort of a private home with all the amenities of a luxury hotel. Service is paramount to the staff of the Hotel Grano de Oro, where each and every guest is made to feel "at home".
Centrally located in downtown San Jose
Free wireless Internet in all rooms and throughout hotel
Simmons Beauty Rest Pillow top mattresses
Air conditioning and ceiling fans
Close to San Jose international airport
Villa Caletas is a popular luxury boutique hotel located at an altitude of 1150 feet over the Central Pacific coast near Jaco. The design and decor of Villa Caletas is something to behold meanwhile the hotel retains it's eco-consciousness and holds a CST (Sustainable Tourism) green leaf rating as testament to this. The hotel also features access to a private and secluded volcanic beach.
Junior Suite
Infinity pool overlooking the Pacific Ocean
Private beach access
Award-winning cuisine at the Greek amphitheatre styled Anfiteatro Restaurant
Serenity Spa
3 nights at Si Como No Resort, Spa & Wildlife Reserve
more details
Si Como No has been leading the way in luxury sustainable tourism in Manuel Antonio for 20 years and over this time has built a solid reputation as being one of the best in it's class. This Greentique Hotels branded resort sits perched upon the oceanfront terraces of the well known tourist destination and features a long list of amenities suitable for solo travelers or families alike.
Award-winning 5 Green Leaf rating from CST (Sustainable Tourism)
Deluxe room
Trip Advisor Excellence Award Winner 2013
Breathtaking oceanviews over Manuel Antonio beach
World-class cuisine from two onsite restaurants.
Separate adult and family areas with a family pool that features a waterslide.
Complimentary breakfast
Your Day by Day Itinerary of Costa Rica Beach Resorts Package
more details
Day 1 – Arrive at the San Jose airport and transfer approx. 20 mins to Hotel Grano de Oro. There you will unwind after your flight one night in this luxury hotel in a standard room situated in the heart of the city.
Day 2 & 3 – Leaving San Jose you will head to the coast and Villa Caletas. This luxurious boutique hotel will capture your heart and dazzle your senses. Perched above the Pacific near Jaco Beach, Villa Caletas is your home for the next two nights.
Day 4, 5 & 6 – Transfer 1 hour to the Manuel Antonio National Park area, arriving at Si Como No Resort, Spa & Wildlife Reserve. This boutique eco-friendly hotel sits perched upon the oceanfront terraces overlooking the majestic Manuel Antonio beach and her turquoise blue waters. This unique resort offers two distinct areas for adults only and for families including a popular waterslide and swim up drink bar. In the center of it all, a stay at Si Como No is one the whole family will enjoy.
Day 7 – Transfer 3 hours back to San Jose where you will once again enjoy the comforts of Hotel Grano de Oro. This day is a "free day" whereas you can take the time to enjoy San Jose or even an active night life the city is famous for. If traveling with children you will be pleased to know that San Jose has a theme park for children with rides, cartoon characters and all the things one would expect from a family theme park including a new and thrilling roller coaster.
Day 8 – Transfer just 20 minutes to the San Jose airport for your flight home.
Nearby Attractions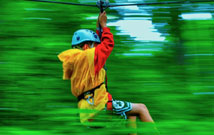 The exhilarating experience of flying atop the jungle canopy is unlike anything you've experienced before. Zip-lining is one of the most popular tourist activities and thousands enjoy this once in a lifetime experience each year. All you need is your willingness to try new and exciting things - be without fear of heights - and you'll have the time of your life. Highly recommended.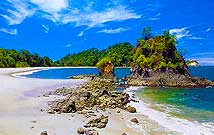 As one of the top destinations in the country, Manuel Antonio National Park is a sight to behold. Abound with some of the most intriguing wildlife like four species of monkeys, parrots, ignuans, toucans and other exotic animals from the rainforest, it is a must see for anyone traveling to Costa Rica. The beach itself is white-sand with turquoise blue waters.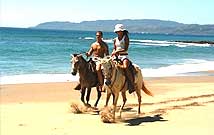 Another popular activity is horseback riding. One can enjoy a leisurely jaunt down one of the many pristine beaches or even take a guided tour in to the mountains where you can jump of waterfalls and swim in spring fed or volcanic hot springs.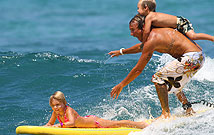 Ever dreamed of surfing effortlessly across the waves in some far off tropical destination? The time has come - Costa Rica surfing is famous the world over and here's your chance to return home telling stories about how you "ripped it up" in CR. Learning to surf in Costa Rica is easy. Ask your travel adviser today how you can learn this incredible sport.
MAPS & AREA
Costa Rica  Beach Resorts Package – where you will go, stay & play!