The "Costa Rica Family Vacations Package" is definitively one the whole family will remember. From everything including visiting live and erupting volcanoes, to visiting remote islands and tropical rain forest waterfalls, this will be an experience you'll be talking about for generations to come.
Costa Rica Family Vacations Package Includes:
Ideally located, the Hotel Real Intercontinental sits in the heart of Escazú adjacent to the city's most prestigious shopping mall with 365 stores, bars and restaurants and close to the Escazú Corporate Center. The hotel features trendy concepts in entertainment and dining, including 2 outdoor pools set amidst landscaped gardens, the largest urban spa in Central America and 4 unique concept restaurants.
Centrally located in downtown Escazu
Free wireless Internet in all rooms and throughout hotel
Corporate suites & business center
Tennis court, outdoor swimming pool and jacuzzi
Deluxe Room
Kids swimming pool
This Costa Rica Family Vacation Package includes 2 night at Arenal Kioro. Arenal Kioro sits on 27 acres of undulating land boasting incredible views of the Arenal Volcano. With nature paths and thermal springs surrounded by exuberant gardens, this is one luxurious hotel. Additionally the hotel is eco-friendly with 53 suites, a restaurant and a spa onsite.
7 thermal volcanic hot springs onsite
Suite Room
Mini-Gym and Games room
Amazing views of the mighty Arenal Volcano
World-class cuisine from the El Pilon restaurant.
Onsite spa with many treatments available.
Situated close to Manuel Antonio National Park, Arenas del Mar is a unique ocean view boutique hotel that offers the highest level of comfort set amid tropical forests and white sand beaches. Luxury, natural beauty and sustainability are flawlessly balanced in this marvelous location. With a firm belief in sustainability, the hotel water is heated using solar panels, waste water is cleaned and recycled for irrigation and the whole building structure blends with the surrounding trees and forest.
Beachfront (only beachfront hotel in Manuel Antonio)
Rainbow Suite
Oceanside large swimming pool
Onsite restaurants
World-class spa
Lush natural landscaped gardens.
Complimentary breakfast
Day 1 – Arrival in San José airport. From here a representative from Costa Rica Vacations will meet & greet you at the airport and provide transfer to Santa Ana. You will stay the night in a deluxe room at Hotel Real Intercontinental. Complimentary breakfast included.
Day 2 – Following day you will have a mid-morning departure to La Paz Waterfall Gardens. Lunch will be served at La Paz's Restaurant.
Includes:
Transportation, naturalist guide, entrance fee & lunch. You will stay another night in a deluxe room at Hotel Real Intercontinental. Complimentary breakfast included.
Day 3 – After breakfast you will be taken via a private transfer to the Arenal volcano area. You will spend overnight at Hotel Arenal Kioro in a suite room with breakfast included.
Day 4 – You will enjoy a fascinating boat trip through a tropical and dense rain forest located in the North Atlantic lowlands on your way to a shared tour of Caño Negro Wildlife Refuge. This region is considered to be one of the richest sites for birdwatchers in the Americas.
Includes:
Transportation, equipment, entrance fee, guide & lunch. You will stay another night in a suite room at the luxurious Hotel Arenal Kioro. Complimentary breakfast included.
Day 5 – Morning (after breakfast) you'll be picked up at the hotel transported via private transfer to the famous Manuel Antonio, Quepos. Considered to be Costa Rica's most beautiful park, with enchanting white-sand beaches ideal for swimming, and tropical rainforest forest alive with wildlife. Important to note that the park is closed on Mondays!Includes: Transportation, naturalist guide, entrance fee & lunch. You will spend a night at Hotel Arenas del Mar in a luxurious rainforest view suite room. Breakfast included.
Day 6 – Today you will sail aboard the Tom Cat or the Spanish Dancer where you will see dolphins, whales, sea turtles, and birds of the Manuel Antonio Marine Reserve. The tour includes snorkeling equipment and a tour of the offshore islands. We also stop for a leisurely swim at one of the white sand beaches and dive to the underwater reefs of the area. Enjoy a lunch of fresh fruits, grilled fish brochettes, pasta salad, and drinks. We offer your choice of a morning or sunset sail into the Manuel Antonio Marine Reserve. (*) Tour schedules: May-Nov: 9am daily / Dec.- Apr: 9am and 2pm daily.You will stay another night at Hotel Arenas del Mar in a luxurious rainforest view suite room. Breakfast included.Includes: Transportation, bilingual guide, snorkeling equipment & light lunch
Day 7 – Return in the afternoon to San Jose via private transfer and check-in to your deluxe room at the Hotel Real Intercontinental for your last night in Costa Rica. Breakfast included.
Day 8 – Transfer back to the San Jose International Airport
Costa Rica Family Vacations Package does NOT include:
International airfare
Airport tax, currently at USD $ 29 payable inside the airport facilities
All personal incidentals such as laundry, telephone bill, Wi-Fi access, meals, drinks, etc.
Alcoholic beverages, unless mentioned
Meals not mentioned in the program
Tips to all local guides, drivers and hotel staff
Nearby Attractions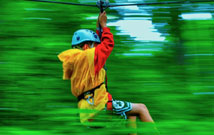 The exhilarating experience of flying atop the jungle canopy is unlike anything you've experienced before. Zip-lining is one of the most popular tourist activities and thousands enjoy this once in a lifetime experience each year. Take advantage of this Costa Rica family vacations package. All you need is your willingness to try new and exciting things - be without fear of heights - and you'll have the time of your life. Highly recommended.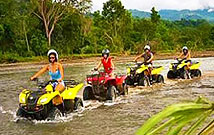 Imagine the thrill of ripping through the jungle - hair wipping in the wind as you bend the corner full speed only to emerge on one of the most beautiful beaches you've ever laid your eyes on? Now imagine showing off all the mud from riding in a remote waterfall in the lush rain forests of Costa Rica. Are you up for it?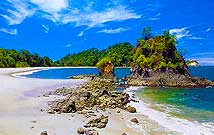 As one of the top destinations in the country, Manuel Antonio National Park is a sight to behold. Abound with some of the most intriguing wildlife like four species of monkeys, parrots, ignuans, toucans and other exotic animals from the rainforest, it is a must see for anyone traveling to Costa Rica. The beach itself is white-sand with turquoise blue waters.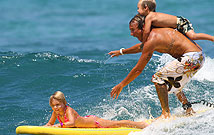 Ever dreamed of surfing effortlessly across the waves in some far off tropical destination? The time has come - Costa Rica surfing is famous the world over and here's your chance to return home telling stories about how you "ripped it up" in CR. Learning to surf in is easy. You can do it with this Costa Rica Family Vacations Package.  Ask your travel adviser today how you can learn this incredible sport.
MAPS & AREA
Family Fun With Nature & Sun – where you will go, stay & play!