Covering a full spectrum of Costa Rican micro-climates, the Costa Rica Honeymoon Package encompasses a visit to the cloud forest, the mighty and majestic Arenal volcano and of course what would a honeymoon be without a trip to the beach. Over the past few years,  Costa Rica have really risen in popularity and has won numerous awards as being one of the world's most romantic getaways. Get carried away by the beautiful hotels and scenery, and enjoy your special days as no one else!
Package Includes:
Xandari Resort & Spa is a tropical paradise of 24 individually designed villas nestled on a 40 acre plantation overlooking the Central Valley of Costa Rica, and only 20 minutes from the San Jose International Airport. At an elevation of 3900 feet (1200 meters), Xandari enjoys a near–perfect temperature of around 70 degrees Fahrenheit all year.
Prima Plus Villa
Onsite spa
Free wireless Internet in all rooms and throughout hotel
Contemporary infinity pool & jacuzzi
Views over the Central Valley and San Jose
Close to San Jose international airport
Just over an hour's drive from San Jose International Airport (SJO), eco-minded travelers from all over the world have reveled in the beauty of Villa Blanca Cloud Forest Hotel, located within the Los Angeles Private Biological Nature Reserve & Research Station in the Canton of San Ramon. The hotel is ideally situated as a gateway to Arenal Volcano and the famous Monteverde Cloud Forest Reserve.
Superior Suite
Deep cultural history and 14th century replica chapel
Located within the Los Angeles Cloud Forest Reserve
Trip Advisor Excellence Award Winner
Voices of Nature Spa
Located in the outskirts of the amazing Arenal Volcano, Arenal Nayara is an oasis of tranquility for your Costa Rica Honeymoon, where guests can experience a profound and organic immersion with nature, while living in luxury at the same time. Arenal Nayara Hotel & Gardens is a five star luxury boutique hotel that is widely recognized for providing premium luxury amenities and ultra-personalized service.
Ranked #1 Resort in Central & South America by Travel & Leisure 2012
Casita Deluxe
Trip Advisor Excellence Award Winner 2013
Amazing views of the might Arenal Volcano
World-class cuisine from Altamira and Sushi Amor restaurants.
Free calls to the USA.
Luxury spa
The uniquely beautiful Tango Mar Beach Hotel and Golf Resort lies within an unspoiled section of the Nicoya Peninsula of Costa Rica, and is a perfect wedding location with its newly completed beachfront event center. Honeymoon couples have long favored the romantic and tropical surroundings of the Tango Mar Resort.
Located on a 150-acre private beachfront reserve
Beachfront Tiki Suite
Trip Advisor Excellence Award Winner 2013
Stunning views of the Pacific Ocean
World-class cuisine from the Cristobal restaurant.
Tango Bar
Beachfront infinity pool
Costa Rica Honeymoon Package: Your Day by Day Itinerary
more details
Day 1 – Arrive at the San Jose airport where you'll be greeted by a Costa Rica Vacations representative and then transfer to Hotel Xandari a short 20 min. drive. There you will unwind after your flight one night in this posh hotel overlooking the lights of the Central Valley.
Day 2 – After breakfast our representative will then transfer you to Villa Blanca Hotel, conveniently located just one hour away from San Jose International Airport. The experience begins with the unique accommodations you'll be enjoying. The spacious "casitas" or small houses, are well decorated, all of them featuring breathtaking views of pristine tropical cloud forest. All feature a fireplace for cuddly fireside on those brisk evenings in the clouds. Late afternoon enjoy a 50 minutes serenity massage, a signature treatment combining Swedish massage techniques, firm pressure and long relaxing stokes for optimum relaxation.
Day 3 – Private transfer to Arenal area to Arenal Nayara Luxury Hotel. Here you will bask in the flawless silhouette of Arenal Volcano, its loud rumblings and frequent explosions of lava and ash are a sight not to be missed by any visitor to the country.By no means are these the only attractions of this area.
Day 4 – Free day to relax, or enjoy one of the many activities of the Arenal and La Fortuna area. In the evening you will enjoy an intimate dinner at Altamira Restaurant. You'll be swept away at the amazing beauty and abundance of nature while you dine by the moonlight with your own private chef and waiter.
Day 5 – After breakfast a private transfer to Tambor Beach a little quiet village which has become a very popular destination among tourists that are looking for a laid-back peaceful holiday. Here you will find dark volcanic sand beach with calm waters that are safe, great for swimming and a variety of water sports including kayaking, fishing and scuba diving. The Tango Mar is where you will call home for the next 3 nights while reveling in your breathtaking oceanfront bungalow (Tiki Suite).
Day 6 - 7 – Free days to take in your surroundings and possibly head out and enjoy some of the many activities around the area like horseback riding, a visit to the Curu National Park, a boat trip to Tortuga Island, and/or a canopy tour among a few. You are also invited to take in a massage for two and a romantic candlelight dinner beachfront.
Day 8 – After breakfast you will fly back to San Jose and transfer to your favorite Xandari Hotel in Alajuela near the airport. Here you will once again enjoy the luxury of staying in a Prima Plus Villa with breakfast included.
Day 9 – Transfer to San Jose International airport for your departure. Enjoy a safe and relaxed flight home and we hope to see you again!
Nearby Attractions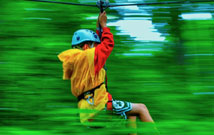 The exhilarating experience of flying atop the jungle canopy is unlike anything you've experienced before. Zip-lining is one of the most popular tourist activities and thousands enjoy this once in a lifetime experience each year. All you need is your willingness to try new and exciting things - be without fear of heights - and you'll have the time of your life. Highly recommended.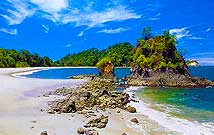 As one of the top destinations in the country, Manuel Antonio National Park is a sight to behold. Abound with some of the most intriguing wildlife like four species of monkeys, parrots, ignuans, toucans and other exotic animals from the rainforest, it is a must see for anyone traveling to Costa Rica. The beach itself is white-sand with turquoise blue waters.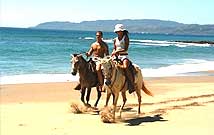 Another popular activity is horseback riding. One can enjoy a leisurely jaunt down one of the many pristine beaches or even take a guided tour in to the mountains where you can jump of waterfalls and swim in spring fed or volcanic hot springs.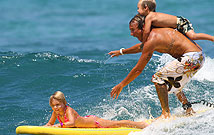 Ever dreamed of surfing effortlessly across the waves in some far off tropical destination? The time has come - Costa Rica surfing is famous the world over and here's your chance to return home telling stories about how you "ripped it up" in CR. Learning to surf in Costa Rica is easy. Ask your travel adviser today how you can learn this incredible sport.
MAPS & AREA
Costa Rica Honeymoon Escape Package – where you will go, stay & play!