If you are looking for a simple option to enjoy the beach without the worries of anything else, then our Costa Rica All Inclusive vacation package is for you!
Fiesta Resort All Inclusive is located along the sands of Puntarenas. This all inclusive resort offers a variety of onsite amenities including, activity room and arcade for the kids, Teen Club for ages 12-17, children's pool and adult pool with swim-up bar, nightly entertainment, variety of international cuisine and water activities around the beachfront pools. As the closest all inclusive resort in Costa Rica to San Jose at only a 50 minute drive, the Fiesta Resort All Inclusive provides a quick getaway for even local city dwellers looking to head to the beach for the weekend.
Package Includes:
Situated along the shores of the Central Pacific in Puntarenas is the Fiesta Resort All Inclusive. This hotel has plenty to offer just about anyone with nightly entertainment in the theatre, children and teen game rooms, variety of water activities at oceanfront pools for both adults and children. This is a 100% all inclusive Costa Rica resort that covers all food and drink (alcohol included) so you don't have to worry about packing anything other than your sunscreen and toothbrush.
Centrally located in downtown San Jose
Free wireless Internet in all rooms and throughout hotel
Simmons Beauty Rest Pillow top mattresses
Air conditioning and ceiling fans
Close to San Jose international airport
Day 1 – Arrive at the San Jose airport where a Costa Rica Vacations representative will greet you. From there you will transfer approx. 50 mins to the coast and Fiesta Resort All Inclusive. During the transfer to the hotel you are encouraged to take advantage of your guide and ask him anything you might need to know.
Day 2 thru 5 – Your Fiesta Resort All Inclusive plan covers most meals and drinks, recreational activities, gratuities, and use of land and non-motorized water equipment. Lounge by one of several oceanfront pools or take a sunset stroll along the wharf located on the volcanic sandy beach after a stimulating day tour. For families, they have a children's pool and the Kidz Paradise with dozens of fun activities to occupy the little ones while Mom & Dad can soak up the tropical sun. Work out in the Fitness Center or take an aerobics class if you're looking to get in some exercise. The all inclusive resort offers a variety of land and water sports, beach soccer, tennis, ping-pong, night shows, casino, beach and pool games, arts and crafts, a disco, and more. There are nightly shows in the onsite theater.Standard Rooms: These comfortable contemporary styled rooms feature Sweet Dreams beds by Fiesta Resort All Inclusive Sleep Experience, and are equipped with over-sized shower stalls. A choice of either one king bed or two double beds, as well as a wide variety of views (internal gardens or ocean) are available.
Day 8 –Return transfer to the San Jose airport for your flight home.
Nearby Attractions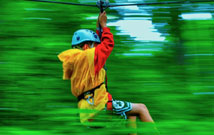 The exhilarating experience of flying atop the jungle canopy is unlike anything you've experienced before. Zip-lining is one of the most popular tourist activities and thousands enjoy this once in a lifetime experience each year. All you need is your willingness to try new and exciting things - be without fear of heights - and you'll have the time of your life. Highly recommended.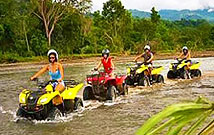 Imagine the thrill of ripping through the jungle - hair wipping in the wind as you bend the corner full speed only to emerge on one of the most beautiful beaches you've ever laid your eyes on? Now imagine showing off all the mud from riding in a remote waterfall in the lush rain forests of Costa Rica. Are you up for it?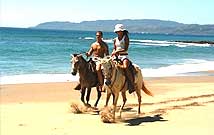 Another popular activity is horseback riding. One can enjoy a leisurely jaunt down one of the many pristine beaches or even take a guided tour in to the mountains where you can jump of waterfalls and swim in spring fed or volcanic hot springs.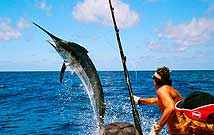 Costa Rica fishing is extremely popular for adrenaline seekers who've dreamed of landing that 700lb Black Marlin and experiencing the thrill of the fight you won't soon forget. Fishing in Costa Rica can land you a variety of species including dorado, red snapper, tuna, snook, grouper, sea bass, wahoo, amberjack and many species of billfish.
MAPS & AREA
Fiesta Resort All Inclusive – where you will go, stay & play!