Costa Rica is considered one of the world's best surf locations for surfing adventure. Not just because of the famous surf Costa Rica spots like Witch's Rock, Nosara and Hermosa near Jaco, but because it gained its reputation from the myriad of hidden breaks that can be discovered by the intrepid surf adventurer. And when the Costa Rica national surf team earned a gold medal in the ISA World Surfing Games, it became even clearer that those who surf Costa Rica´s waves gain special experience.
Costa Rica Vacations is owned and operated by people who just happen to enjoy the sport of surfing. Therefore, we are proud to offer a 14-day adventure for 2 people that allows you to explore the best and most fun breaks on the Pacific coast.
Fly into San Jose's Juan Santamaria Airport, and we'll transfer you to a hotel where you can stay overnight before the drive to Tamarindo the next. There you will be strategically located near at least six world-class surf breaks: Langosta, Avellanas, Negra, Grande, and of course, the must-surf Witch's Rock and Ollie's Point. Our affiliated surf company, Salty Sols will take care of all your daily tours with an experienced guide named Eric Atkinson.
Next you will travel to Nosara, where Playa Guiones lovely waves await for exploration on your own. Then make a stop Santa Teresa/Malpais, home to Costa Rica's national surf champion Anthony Fillingim, before your final days in the powerful beachbreak of Hermosa near Jaco.
We'll get you back to San Jose from there in time to meet your return flight home.
Surf Costa Rica Package includes:
1 night at Irazu Best Western
Your first taste of Costa Rica is the Irazu, located only 15 minutes from the airport and an easy stay in a clean, comfortable, safe Standard room. The hotel has a pool, gym and tennis courts. Sit at the downstairs bar for Happy Hour with a complimentary drink in hand, and go to the Casino to try your luck later in the evening.
Full-service hotel with room service
Welcome drink
Free Wifi
Pool, gym and tennis courts
Lovely gardens
Complimentary breakfast available 24 hours a day at Denny´s
Gift shop
2 nights at the Tamarindo Vista Villas Best Western
more details
Situated directly across - only steps away - from Tamarindo beach, sits the Best Western Tamarindo Vista Villas. This affordably priced hotel is perfect for those looking to take in some of the area favorite activities and events. Here you will find a pool overlooking the famous surf break and you'll have a chance to enjoy the popular Crazy Monkey Bar that fills up every Friday night for ladies night. It's a fantastic jump point to world-renowned surf breaks such as Witch's Rock and Ollie's Point for which are both booked daily from the hotel.
Standard room
Ocean view pool with accompanying deck.
Free wireless Internet in all rooms and throughout hotel
Complimentary breakfast
Views over the famous Tamarindo surf break
Onsite bar/restaurant the Crazy Monkey
Centrally located along "the strip"
2 nights at La Negra Nosara Surf Hotel
This is a surfer's paradise with individually designed room just a few minutes away from the Guiones beach. Enjoy casados, which are typical Costa Rican food, at the soda (small restaurant) located right at the hotel.
Various rooms depending on availability
Yoga studio
Surf School
Soda onsite
Onsite pool
Free wifi
3 nights at Manala Hotel
An unspoiled part of Costa Rica, Santa Teresa's surf breaks, which are also uncrowded, are home to the Manala Hotel.  Stay in one of the eight private bungalows just 100 meters from your next surf experience.
Garden bungalows
TV, air conditioning, safe and minibar
El Pulpo restaurant and bar
Pool and garden
Close to Santa Teresa and Malpais surf breaks
2 nights at The Backyard Hotel
Not only do all the rooms at The Backyard give you the perfect ocean view to check out the waves, the hotel and bar are the quintessential surfer hangout. Choose a Deluxe or Master Suite, swim in the pool, and participate in the weekly surf contest.  Located only 4 km from the popular town of Jaco.
Beachfront bar with great food
Weekend surf contests featuring many of the local pros
World-class waves right outside your door
Swimming pool
Live surf cam
Your Day by Day Itinerary
Day 1– Arrival in San José airport. From here a representative from Costa Rica Vacations will meet & greet you at the airport and provide transfer to Irazu Best Western. Stay the night in the Standard room, enjoy the lively bar, casino and more. Compliementary breakfast at the world famous Denny's Restaurant on site.
Day 2 –After breakfast, you will be taken by private transportation to Tamarindo. You will stay the night in a Tropical Suite at Best Western Tamarindo Vista Villas, a one-bedroom hotel room with kitchen, living room and partial ocean view. Complimentary breakfast included.
Day 3 – Choose your surf spot: Tamarindo, Avellanas, Negra, Langosta, Grande. Get advice from Eric Atkinson, the onsite surf guide who will take you where you want to catch your waves. Overnight again at Tamarindo Vista Villas.
Day 4 – Rise early for your trip to the world famous Witch's Rock and Ollie's Point. Transportation will take you to Flamingo where you will meet the boat that will take you for a once-in-a-lifetime surf session. Return for another night at Tamarindo Vista Villas.
Day 5 – Free day in the area to surf, shop, dine and party, whatever you choose. Stay at the Tamarindo Vista Villas
Day 6 – Catch an early surf, eat breakfast and then transfer to the Nosara area, where you will base at La Negra Nosara Surf Hotel (room depends upon availability). Guiones,is one of the most consistent swells in Costa Rica because it picks up both the North and the South swell on its long, sandy beach breaks.
Day 7 – Surf or take an optional tour. It's up to you. Stay another night at La Negra Surf Hotel.
Day 8 – After breakfast, you will be transferred to Santa Teresa-Malpais, has so many places to surf from easy to challenging. You will be staying at the Manala's spacious bungalow.
Day 9- Surf or take an optional tour (if you can pull yourself away from the waves). Overnight at Manala.
Day 10 – Another free day to do as you like in paradise
Day 11—After breakfast, time to head for your final surf spot, this will be Hermosa near Jaco. There you will in a Deluxe room at the surfer's paradise, The Backyard, right in front of the challenging wave.
Day 12 –Get your surf on in Hermosa, and take a taxi to Jaco which has lots of great bars, restaurants and shops. Overnight at the Backyard.
Day 13 – One last day to surf, surf, surf. Stay at The Backyard.
Day 14 – Private transfer will take you to San Jose in time to make your flights.
Package does NOT include:
International airfare
Airport departure tax, currently at USD $ 29 payable inside the airport facilities
All personal incidentals such as laundry, telephone bill, Wi-Fi access, meals, drinks, etc.
Alcoholic beverages, unless mentioned
Meals not mentioned in the program
Tips to all local guides, drivers and hotel staff
Nearby Attractions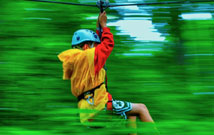 The exhilarating experience of flying atop the jungle canopy is unlike anything you've experienced before. Zip-lining is one of the most popular tourist activities and thousands enjoy this once in a lifetime experience each year. All you need is your willingness to try new and exciting things - be without fear of heights - and you'll have the time of your life. Highly recommended.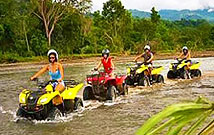 Imagine the thrill of ripping through the jungle - hair wipping in the wind as you bend the corner full speed only to emerge on one of the most beautiful beaches you've ever laid your eyes on? Now imagine showing off all the mud from riding in a remote waterfall in the lush rain forests of Costa Rica. Are you up for it?
Horseback Riding
more details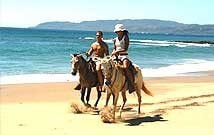 Another popular activity is horseback riding. One can enjoy a leisurely jaunt down one of the many pristine beaches or even take a guided tour in to the mountains where you can jump of waterfalls and swim in spring fed or volcanic hot springs.
Bluewater Costa Rica Fishing
more details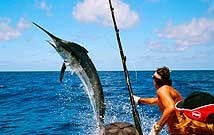 Costa Rica fishing is extremely popular for adrenaline seekers who've dreamed of landing that 700lb Black Marlin and experiencing the thrill of the fight you won't soon forget. Fishing in Costa Rica can land you a variety of species including dorado, red snapper, tuna, snook, grouper, sea bass, wahoo, amberjack and many species of billfish.