Have you got the itch for adventure? Maybe you're looking for a vacation package that's jam-packed with thrilling and exciting activities. Well if this is what you're after then our Costa Rica Adventure All-in-One vacation package is for you.
This custom designed itinerary includes a handful of the most exhilarating activities from wild and scenic white-water rafting, active volcanoes, horseback riding to sea kayaking and much more!
Package Includes:
Situated in the heart of San Jose, Hotel Grano de Oro is a true oasis. It was once a tropical Victorian mansion that boasts 40-rooms while maintaining the warmth and comfort of a private home with all the amenities of a luxury hotel. Service is paramount to the staff of the Hotel Grano de Oro, where each and every guest is made to feel "at home".
Centrally located in downtown San Jose
Free wireless Internet in all rooms and throughout hotel
Simmons Beauty Rest Pillow top mattresses
Air conditioning and ceiling fans
Close to San Jose international airport
Located in the outskirts of the amazing Arenal Volcano, Arenal Nayara is an oasis of tranquility, where guests can experience a profound and organic immersion with nature, while living in luxury at the same time. Arenal Nayara Hotel & Gardens is a five star luxury boutique hotel that is widely recognized for providing premium luxury amenities and ultra-personalized service.
Ranked #1 Resort in Central & South America by Travel & Leisure 2012
Deluxe Room
Trip Advisor Excellence Award Winner 2013
Amazing views of the might Arenal Volcano
World-class cuisine from Altamira and Sushi Amor restaurants.
Free calls to the USA.
Luxury spa
Nestled in the misty cloud forest of Monteverde, El Establo offers the best quality services that will make your trip an unforgettable experience. The area's best view, heated indoor pools, spa, restaurants, café-bars, special events center, internet access, souvenir shop, tennis court, basketball court, mini soccer court, hiking trails, canopy tour and the most charming staff. This half Costa Rican and half Quaker family owned hotel, will allow you to experience the best of both cultures.
Green Leaf Spa
Deluxe room
Sweeping views of the Nicoya Peninsula.
Orthopedic mattresses
2 restaurants Laggus & Las Riendas
Onsite Tree-Top Canopy tour
Complimentary breakfast
3 nights at Si Como No Resort, Spa & Wildlife Reserve
more details
Si Como No has been leading the way in luxury sustainable tourism in Manuel Antonio for 20 years and over this time has built a solid reputation as being one of the best in it's class. This Greentique Hotels branded resort sits perched upon the oceanfront terraces of the well known tourist destination and features a long list of amenities suitable for solo travelers or families alike.
Award-winning 5 Green Leaf rating from CST (Sustainable Tourism)
Deluxe room
Trip Advisor Excellence Award Winner 2013
Breathtaking oceanviews over Manuel Antonio beach
World-class cuisine from two onsite restaurants.
Separate adult and family areas with a family pool that features a waterslide.
Complimentary breakfast
Day 1 – Arrival to the Juan Santamaria Airport in San Jose(SJO). A representative from Costa Rica Vacations will meet you at the airport and take you to hotel Grano de Oro, located in down town San Jose. Here you will stay overnight in a deluxe room.
Day 2 – Your adventure begins in the early morning to reach the Pacuare River for a rafting trip you won't ever forget in one of the most renowned rafting rivers in Central America. Winding deep inside of one of Costa Rica's most impressive primordial rainforests, you'll be breathless at the surrounding scenery. Breakfast on route and lunch is served along the river. After the tour our representative from CRV will transfer you via shuttle bus to the Arenal/La Fortuna area. Here you will marvel in the site of one of the most active volcanoes in the world where adventure is abound and you can enjoy exciting activities like wind surfing, zip-lining and all while enveloped within one of the most bio-diverse locations on the planet. Here you will stay overnight at Hotel Arenal Nayara in a deluxe room. Breakfast included.
Day 3 – A late afternoon visit to the trails of El Silencio - a series of hiking trails located close to Arenal Volcano. You can also enjoy the soothing volcanic thermal mineral pools at Tabacón Hot Springs only to later enjoy a scrumptious dinner. Dinner is included and served at Tabacon Hot Springs restaurant. An additional night at Hotel Arenal Nayara in your deluxe room. Breakfast included.
Day 4 – Morning departure to the Arenal Lake where a boat will be waiting for you to transfer across the lake. Once on the other side of the lake, a van will then take you Monteverde Cloud Forest Reserve. Monteverde was founded about 40 years ago by a small group of conservation-minded Quakers looking for a peaceful place to live. Since it has become one of the most popular tourist destinations in the country. During this leg of your adventure you will stay overnight at Hotel El Establo inside a deluxe room. Breakfast included.
Day 5 – Morning starts with a visit to the Sky Zipline & Tram facilities. First you will board the Sky Tram and take a gondola through the world famous cloud forest of Monteverde in a 5,249 feet ride that will lead you up the Costa Rica Continental Divide. After this, you will be able to take ziplines down via a system of seven platforms suspended above the ground amidst the cloud forest canopy. Your safety will be guaranteed with the use of special, state of the art equipment. A free afternoon allows for optional tours such as horseback riding or a guided visit into the Monte Verde reserve (prices not factored into above prices). After, you will stay an additional night at Hotel El Establo in a deluxe room. Breakfast included. A free afternoon for optional tours such as horseback riding or a guided visit into the reserve (not included into package). Here you will be staying an additional night at Hotel El Establo in a deluxe room. Breakfast included.
Day 6 – After breakfast you will then depart via shuttle bus to the Central Pacific Coast to the small seaside town of Manuel Antonio. Here you will check in at Si Como No to begin enjoying some "barefoot luxury". The afternoon is free to explore the area including the world-famous Manuel Antonio National Park - the most popular tourist destination of all the national parks. You will enjoy a nice evening in a deluxe room overlooking the turquoise blue waters and white sand beaches of Manuel Antonio. Breakfast included.
Day 7 – Today is your moment to view the endangered mangroves and Damas Island. During the 20-minute drive your guide will explain some of the scenery highlights. You will travel up the Paquita River by your choice of Kayak or Motorboat. Keep your eyes open, because the area offers an abundance of aviary species, snakes, ant eaters and white faced monkeys. While you silently observe this rich habitat your guide will offer facts about the natural inhabitants found in this unique region. This tour takes you through the natural canals and provides an ideal opportunity to observe heron species, kingfishers, ospreys and other migratory birds. As you journey through the brackish waters you pass beneath tunnels made naturally from tree and jungle growths. The tour lasts approximately 2 hours and 15 minutes, and lunch can be arranged before or after the trip. The kayaks are available in 1 passenger and/or 2 passenger configurations and do not require previous experience. For an adventurous twist, this tour can be taken at night. Afternoon at your leisure to enjoy the beach or take a hike at the Carara Biological Reserve (tours not included into package). A second evening in barefoot luxury at Si Como No in your deluxe room. Breakfast included.
Includes:
guides, fees and transportation
Meals:
Lunch
Duration:
4 hours * Pick up time will be according to tides. ** Minimum age: 8 years old to be able to paddle alone.
Day 8 – Private transfer back to San Jose, either to the airport or extend your stay in Costa Rica.
Nearby Attractions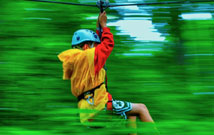 The exhilarating experience of flying atop the jungle canopy is unlike anything you've experienced before. Zip-lining is one of the most popular tourist activities and thousands enjoy this once in a lifetime experience each year.All you need is your willingness to try new and exciting things - be without fear of heights - and you'll have the time of your life. Highly recommended.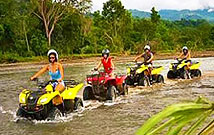 Imagine the thrill of ripping through the jungle - hair wipping in the wind as you bend the corner full speed only to emerge on one of the most beautiful beaches you've ever laid your eyes on? Now imagine showing off all the mud from riding in a remote waterfall in the lush rain forests of Costa Rica. Are you up for it?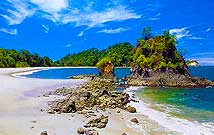 As one of the top destinations in the country, Manuel Antonio National Park is a sight to behold. Abound with some of the most intriguing wildlife like four species of monkeys, parrots, ignuans, toucans and other exotic animals from the rainforest, it is a must see for anyone traveling to Costa Rica. The beach itself is white-sand with turquoise blue waters.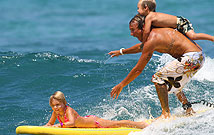 Ever dreamed of surfing effortlessly across the waves in some far off tropical destination? The time has come - Costa Rica surfing is famous the world over and here's your chance to return home telling stories about how you "ripped it up" in CR. Learning to surf in Costa Rica is easy. Ask your travel adviser today how you can learn this incredible sport.
MAPS & AREA
Costa Rica Adventure All-in-One Vacation Package – where you will go, stay & play!